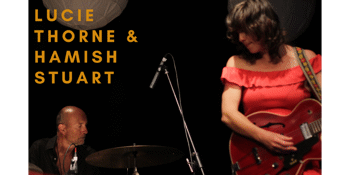 CANCELLED - Lucie Thorne & Hamish Stuart
Royal Oak Hotel (Launceston, TAS)
Friday, 5 November 2021 9:00 pm
Lucie Thorne & Hamish Stuart return to Launceston for an intimate concert at The Royal Oak on Friday 5th November.
Lauded for writing "some of the most simple and beautiful songs you will hear" (****The Age), Lucie Thorne has earned her place as one of Australia's most striking contemporary songsmiths. Together with her longtime collaborator, legendary drummer Hamish Stuart, the pair conjure
"exquisitely impressionistic… poetry in motion" (**** Rolling Stone Magazine) with an intimacy and warmth for which their live shows have become so renowned.
"Vast and often breathtaking... these songs glow in the smoke of Thorne's incredibly expressive voice" (Michael Dwyer, The Age)
"So deep, lush and inventive you're transported to a post-Radiohead rock soundscape" (Martin Jones, Rhythms Magazine)
"Thorne conjures a simple narrative flow that, like a Raymond Carver story, transforms everyday life into high art" (Canberra Times)
"A demonstration of power through grace and subtlety. World Class." (Drum Media)
"Atmospheric, innovative… brilliance" (****Sydney Morning Herald)
"One of my favourite songwriters & performers in the known three Universes" (Tim Rogers)